Products
Heating (Furnaces)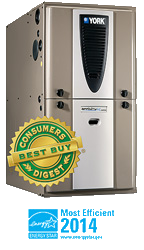 York is the world's leading independent maker of heating and air conditioning equipment. When it's time to get comfortable, it's a good time to install a new, high-efficiency York furnace.
Up to 98% AFUE furnace: Single Stage, Two Stage and Modulating Variable Speed
80% efficient, single stage and modulating furnaces.
Electric furnaces
LP furnaces
Garage hanging heaters and infrared heaters
---
Air Conditioning
York offers a complete line of innovative, attractive, and energy efficient central air conditioning systems for homes and businesses. With a sleek, contemporary look, the Affinity™ Series is the only system on the market that gives you the choice of seven exterior colors, plus the latest technology on the inside.
Central air conditioning systems from 13 SEER to 18+ SEER
Central air conditioning systems with environmentally sound R-410A refrigerant
Heat pumps up to 18+ SEER provide cooling in the summer and heating in the winter
Dual fuel systems utilize heat pumps and high-efficiency furnaces for increased comfort and energy savings
---
Ductless System
Mitsubishi Hyper Heat ductless ultra-high efficiency heat pump, heating and cooling systems.
Seer ratings into the 30+ range.
Inverter-driven compressors.
Split-zoning for precise temperature control and greater efficiency throughout a home or business.
Sleek indoor units blend into any room.
Ducted air handlers and ceiling mounted units are available now.
---
We offer a complete line of cast iron and high efficient water boilers to heat any home or business.
Standard replacement boilers
High-efficiency boilers up to 98% AFUE
---
Rooftop HVAC Units
York is the answer when a project calls for quality, high-efficiency commercial heating and cooling.
York equipment uses the latest technology to provide durability, efficiency, easy installation, and trouble-free operation—it's all packed into these compact units.
Units from 3 to 100 ton
Power ventilation and economizers for fresh air
Standard and high-efficiency units
---
In-Floor Radiant Heat
High efficient boilers, coupled with in-floor radiant tubing, provide extraordinary comfort in the heating season.
In-floor radiant piping loops are installed on top of an insulation barrier and concrete is then poured over them. These loops will heat, which in turn heats the concrete floors, creating a warm floor in basements, garages, slab homes and, commercial buildings. They can also be used to melt snow on driveways and sidewalks.
In-floor radiant piping loops can also be installed in new or existing homes in the floor joists to heat the floor
In-floor radiant loops can also be easily zoned to provide separate operation for each room.
---
Indoor Air Quality Product
Kale Company has partnered with York and Honeywell Corporation to provide the most advanced controls and indoor air quality products available.
Humidifiers
Air cleaners
Zoning systems
UV lights
Fresh air intake dampers
Phone access systems
Computer interfaces
Building integration systems
Heat recovery ventilation
---
Other Products
Mobile Home Furnaces and Central Air Conditioning
Coleman is best known for their line of heating and air conditioning products. These systems are specifically designed for mobile homes. Standard codes prohibit the installation of regular residential heating equipment to be installed in mobile homes. Kale Company has trained and experienced technicians to handle any mobile home installation.
Kitchen Hoods and Exhaust
Kale Company offers a wide selection of kitchen hoods and custom-built hoods, as well as exhaust ventilators and make-up air units. Kale Company also provides custom-built Type I and Type II hoods and has specialty-trained technicians in the installation of kitchen exhaust and make-up air systems.
Removes excess heat in your home
Increases your property value
Improves home air quality
Industrial Exhaust and Smoke Ventilators
Top of the line industrial/commercial and residential, ventilation products can handle any small, medium, or large scale air moving requirement. Kale Company is equipped to handle all your air moving projects.
Increased worker productivity
Fewer equipment malfunctions
Provides heat destratification
Infrared Radiant Heaters
Kale Company works with many industry leaders such as Space Ray, Enerco, and Reznor in providing quality infrared heat for commercial and residential outbuildings, outdoor Bar/ restaurant areas, shops, large garages, warehouse storage buildings, and manufacturing plants. These systems provide radiant heat to the objects below, creating a very comfortable atmosphere and fuel-efficient operation.
A decrease in energy consumption
Instant heat for your home
Minimal maintenance needed
Geothermal Heating and Cooling Systems
Go Green with one of our select brands of Geothermal heating and cooling systems.
Possible tax breaks and write-offs for federal and local taxes

Quiet systems that don't take up space in the yards
Chillers
Kale Company offers many types of chilled water systems and air-to-air chillers. At Kale, we have the training and experience to service and install your chiller system.
Water and air are used as a coolant instead of refrigerant
safer for families and people; fewer chemicals
---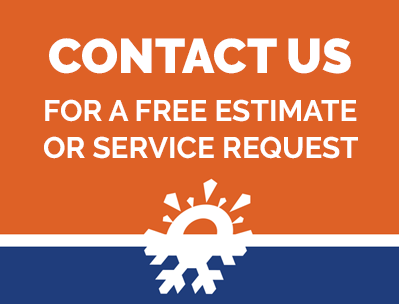 The only Diamond Elite contractor in over 400 miles.