Mitsubishi Ductless Mini Splits System Installation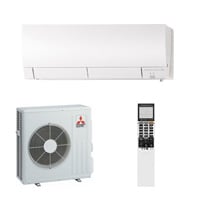 Why does Kale Co. do what we do? We simply want to provide you with the best and most effective comfort solutions using the best products. There are plenty of options when it comes to HVAC, but Kale Co. considers it an honor to work on your property, which is why we provide the best possible service at the lowest price possible. Taking care of our customers with our old time values is at the core of our service before and after the sale. We are a Mitsubishi Diamond Elite Contractor, for the best work on Mitsubishi products!
Why Mitsubishi Ductless Mini Splits?
Kale Co is constantly keeping up with the best products and latest technology to ensure you get the most comfort for the best prices. In doing so, our team consistently learns the ins and outs of efficient equipment. One of the best solutions for heating and cooling is the Mitsubishi Ductless Mini Split. A few highlights to consider are:
Provides Superior Comfort
Lower Energy Costs
Zero Emissions
Ultra-Quiet
Heating & Cooling Solution
Control From Smartphone
Controlled Zones/Rooms
Additional Advantages
Sometimes, when you have a house that is older, it could be built without central ducts or without energy optimization in mind. Your old home may have sections of the house that are less comfortable due to a number of factors. A great benefit of the Mitsubishi ductless mini splits are that they can be installed in various locations of the home, making uncomfortable rooms as comfortable as ever. This, of course, can be done without worrying about connecting the system to a duct network as there are no ducts needed to operate it.
Our Mitsubishi ductless mini splits can even replace a fuel-burning system. You can also use these systems to supplement your traditional fuel-burning system. After all is said and done, you will get the same or better levels of heating performance with less energy, reducing carbon emissions!

Contact Us
For more information on our Mitsubishi ductless mini split systems, please contact us! We are looking forward to making a difference in your home!

The only Diamond Elite contractor in over 400 miles.