Mitsubishi Ductless Mini Splits System Installation
The Perfect Heating & Cooling Solution in the Quad Cities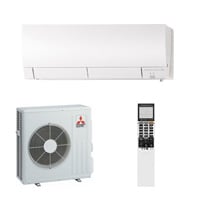 At Kale Co., we aim to provide the best and most effective comfort solutions using top-quality products in the Quad Cities, including Bettendorf, Davenport, Dubuque, East Moline, Eldridge, Geneseo, Le Claire, Milan, Moline, Riverdale, and Rock Island. We are proud to be a Mitsubishi Diamond Elite Contractor, ensuring you receive the highest level of service for your Mitsubishi ductless mini split installation.
Why Mitsubishi Ductless Mini Splits?
Kale Co. stays up-to-date with the latest products and technology to provide maximum comfort at the best prices. One of the most efficient heating and cooling solutions we offer is the Mitsubishi Ductless Mini Split system, known for its:
Superior comfort and temperature control
Lower energy costs and reduced carbon emissions
Quiet operation for minimal disturbance
Convenient smartphone controls and zoned climate control
Experience Unmatched Flexibility and Comfort in Your Quad Cities Home
Older homes in the Quad Cities area may lack central ducts or energy optimization. Mitsubishi ductless mini splits can be installed in various locations throughout your home, ensuring every room is comfortable without needing a duct network.
Replace or Supplement Your Traditional Heating System
Mitsubishi ductless mini splits can replace or supplement your fuel-burning system, providing equal or better heating performance while consuming less energy and reducing carbon emissions.
Contact Us for Expert Mitsubishi Ductless Mini Split Installation in the Quad Cities
Please contact us for more information on our Mitsubishi Ductless Mini Split systems and services in the Quad Cities! We look forward to making a difference in your home.

The only Diamond Elite contractor in over 400 miles.