Rock Island, IL Boiler Repair
The weather in Rock Island, IL can get nasty - gusting winds, chilly temperatures, and rain are all par for the course. Your worst nightmare? Heading outside, braving a storm, and returning home only to find out that your home is freezing - the heat no longer works. Whether you need a boiler repair or a boiler replacement in the Quad Cities area, Kale can help you.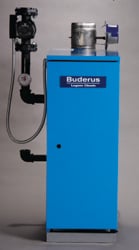 What to Expect from Our Home Boiler Repair Service
No one wants to be cold - that's why our experienced technicians will immediately head to your place to diagnose and repair your boiler as quickly and efficiently as possible. They'll show up in a marked vehicle, wearing a company uniform, and take a look at heating set up to determine whether you need a simple boiler repair or a boiler replacement. Their job? To keep you and your equipment safe, and get the heat restored back to your home so you're not stuck wandering around your house or apartment with a blanket wrapped around your shoulders.
How We Can Help You With Your Boiler in Rock Island, IL
We understand how overwhelming it can be to get your boiler repaired. That's why our technicians are taught to keep things as simple as possible. We have flat rate pricing - there's a diagnostic fee to determine what the problem with your boiler is, then we have a standard repair price book for all further services. Every hour of the day, every day of the week, every week of the year - we're ready to help you with your boiler repair or boiler replacement - this includes emergency calls to anywhere in the Quad Cities area.
As for our technicians, they're all highly trained and certified. In fact, Kale has a private training room that allows us to constantly update our technicians on new standards, practices, and types of equipment, so you're always getting the best on your doorstep.
Get Started Today with Kale!
Don't be stuck in the cold, get in touch with us today and we'll dispatch a certified technician to your residence in Rock Island, IL to help you with your boiler repair or boiler replacement.