Exceptional Boiler Repair in Rock Island, IL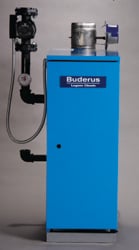 After braving a winter storm in Rock Island, you last need a broken boiler and a cold home: no more chilly showers or freezing nights. With the professional boiler repair and replacement services from Kale Co., top-notch heating solutions are just a phone call away.
Spotting Boiler Issues Early
While cold water is a glaring sign of boiler problems, other subtler signs can help you catch boiler issues early. These include:
Unusual boiler sounds
Slow-heating hot water
Lukewarm water after moderate use
Unexpected spikes in energy or water bills during cold months
Seeing these signs in your Rock Island home? Contact Kale Co. immediately. Early detection can help prevent costlier issues, saving you from the high cost of a complete boiler replacement.
Why Choose Kale Co. for Your Boiler Services?
We take pride in our exceptional, professional boiler repair services. Our technicians are factory trained and certified, capable of handling nearly every type of boiler in the market. We stock parts for almost all boiler types, ensuring quick and efficient repairs.
Our commitment to you extends beyond business hours. We offer emergency services 24/7, in any weather. With Kale Co., you won't be left out in the cold if your boiler fails during a blizzard.
We encourage customers to take advantage of our warranties and maintenance plans. With regular maintenance backed by comprehensive warranties, you're unlikely to need a boiler replacement. And if you ever do, it won't cost you a dime.
Ready for Reliable Boiler Repair in Rock Island, IL?
Don't endure cold showers or chilly homes. Contact us now, and we'll dispatch a certified heating technician to your Rock Island, IL home. Get your free estimate for our boiler repair or replacement services today!

The only Diamond Elite contractor in over 400 miles.