Mitsubishi Diamond Elite Contractor in Davenport, IA
Kale Co., the top-rated Mitsubishi Diamond Elite Contractor in Davenport, IA, is dedicated to providing customized heating and cooling solutions. Our experienced team ensures your comfort all year round with Mitsubishi HVAC systems.

Get Your Free Quote Today!
Your Comfort, Our Commitment
Trust your comfort to Kale Co., a Mitsubishi Diamond Contractor, offering you the following:
Industry-Leading Expertise: Our deep understanding of Mitsubishi products allows us to offer the best Mitsubishi heating and cooling in Davenport, IA.
Top-Tier Customer Service: Our friendly team is always ready to help, providing swift, reliable service when you need it.
Attractive Warranties & Financing: We offer comprehensive warranties and flexible financing options for your peace of mind and budget.
No-Cost Estimates: Get accurate, transparent pricing for all our services.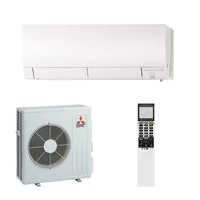 Experience the Kale Co. Difference
Choose Kale Co. for the best Mitsubishi HVAC in Davenport, IA. We provide more than just installations. Our team helps you navigate energy-saving programs and rebates, ensuring your system is as cost-effective as it is comfortable.
Mitsubishi Ductless Heating and Cooling Systems
Experience the future of home comfort with our Mitsubishi ductless systems. These high-efficiency units offer whisper-quiet operation and superior air quality, providing the perfect solution for any space in your home.
Ready for a Comfort Upgrade?
Choose Kale Co., your local Mitsubishi Diamond Contractor in Davenport, IA, for superior comfort and energy savings. Don't wait to upgrade your home's comfort.

The only Diamond Elite contractor in over 400 miles.